Order Management System
Landis as a fulfillment service provider, we understand that each of our clients is unique, with their own specific criteria governing how their orders should be managed. To expedite decision-making in a high-volume, fast-paced environment, we have a fulfillment system in place that lets us automate the order process. With intelligent order processing, all orders are automatically examined against a pre-defined set of business rules (Stream) that determine how each order should be handled. Rules can be set based on your needs. For example. Landis can set up a stream to capture all orders with priority shipping and process these orders sooner in the work day to insure pick up by the carriers. These automations enable Landis to reduce the need to examine every order, which allows for faster orders processing.
9 Common Order Processing Automations
1 | WAVE PICKING
Control when an order, or group of orders, is released to the warehouse.
EXAMPLE | Based on service-level agreements, a client's orders are to be processed on Tuesday and Thursday mornings. However, "rush" orders and orders from the corporate office require same-day processing on Monday - Saturday, if received prior to 3:00 pm
2 | ORDER PRIORITIZATION
Manage the prioritization of orders, especially in cases where inventory may be scarce.
EXAMPLE | A client's retail orders may take precedence over wholesale orders, consumer purchases may take precedence over sales reps ordering samples, etc.
3 | BACKORDER TREATMENTS
When backorders can't be avoided, determine how to respond to inventory shortfalls. The response may vary by order.
EXAMPLE| For consumer orders, a client may wish to ship available inventory and backorder out of stock items. However, for trade shows they may wish to ship available inventory and simply cancel any out of stock items.
4 | ORDER APPROVALS
Require an approval process before orders are released to the warehouse.
EXAMPLE| If one of the client's store managers requests an expedited shipping method, the district manager may need to sign off on the request before an order is released to the warehouse.
5 | FUTURE SHIP DATES
Hold orders for a future release date. Easily manage the queuing and release of orders
EXAMPLE| A new product is being rolled out to a chain of retail stores. Orders for a new product are required to arrive in retail stores on a specific date that coincides with a national promotion. Because of varying travel times required for delivery, the actual release of the orders to production must be staggered based on shipping zone.
6 | EMAIL NOTIFICATIONS
Generate order-related emails, such as backorder alerts, denied credit card alerts, or denied/approved order alerts, etc.
EXAMPLE| The client may want to send consumers both an order receipt acknowledgement and a shipping alert. To help ensure that the emails are not caught in spam filters, they will be sent in text format. For dealers, the client only needs to send the shipping alert, but their alerts will contain more detail than the version sent to consumers, and will be sent in an HTML format.
7 | SHIPPING METHOD SELECTION
Assign a method of shipping based on characteristics of the order, such as who placed the order, shipping destination, etc.
EXAMPLE| For most orders, the client wishes to ship via UPS Ground. However, if the order contains perishable goods, it is to ship 2nd Day Air via FedEx and require a signature upon delivery.
8 | AUTOMATICALLY ADDING ITEMS TO AN ORDER
Include an additional item or items to the order if the order meets certain conditions.
EXAMPLE| If an order contains products from a specific product line, the client requests that a brochure, coupon, and complimentary item be included.
9 | PICKING STRATEGIES
There are techniques that a warehouse team may use to pick, pack and ship orders. Automate workflow by organizing orders or maximum accuracy & efficiency.
EXAMPLE| A client requires their products to be shipped to various retail stores and directly to consumers. The volume of consumer orders is high, and the order quantities tend to be small. The service provider will utilize a forward picking strategy for these orders, using a combination picking and packing form. The orders for retailers are infrequent and tend to be for full cases, which will be pulled from bulk storage and will require GS-128 labels. Orders can be organized to control the timing of order processing and route the appropriate forms to the right printers - without special analysis by the fulfillment team.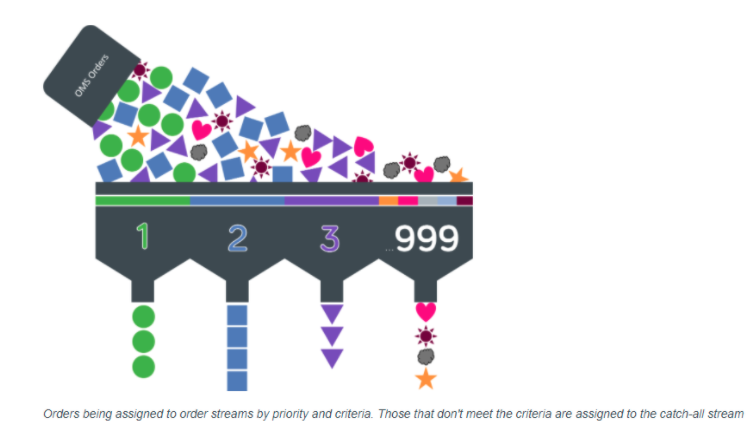 Automating order processing decision-making within the Landis Order Management System is good for your business. By investing in fulfillment software that supports intelligent order processing without requiring programming, Landis is able to increase order throughput while reducing errors and reducing the need for account management and warehouse personnel to manually handle orders.